Do you want to test yourself?
Join the best.
We value people for who they are.
In every person we can find something that inspires us to act and change for the better.
We value people who know what is important.
If you know what is important, come and join us.
Why should you join CCIG?
Join the CCIG team today!

Are you a student?
Are you a student? Do you have no or little professional experience? Do you need regular cash? Become a Customer Advisor.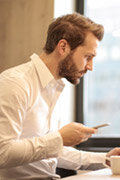 Are you an expert?
If you have experience in managerial and expert job positions, we encourage you to check the specialised job offers.